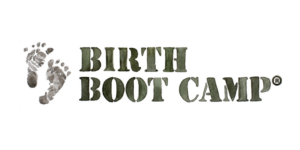 CONGRATULATIONS ON YOUR PREGNANCY!   
The goal of Birth Boot Camp classes is to give parents the tools to have an amazing birth!
What is Birth Boot Camp?
Comprehensive birth, newborn care, & breastfeeding education classes. 

Research-based, complete curriculum.

Physical and mental preparation for the birth process and early parenting.

Equips both both mom AND dad to feel prepared for birth.

Statistics from our classes show low c-section rates and high birth satisfaction rates.
Developed by experienced childbirth educators, midwives, doulas, lactation consultants, Webster-Certified chiropractors, massage therapists, nutritionists and personal trainers to provide complete and relevant information for couples.
What Makes Birth Boot Camp Different From Other Birth Classes?
Birth Boot Camp knows every expecting mother is unique in her desires and preferences for birth and, therefore, does not teach a singular method for approaching birth.
Instead, our curriculum presents evidence-based information and teaches a large variety of coping strategies and comfort measures to empower expecting parents to make birth choices that are right for them!
Which Birth Classes are Offered in Southlake, TX?
Birth Class – Preparation for birth, baby care, and breastfeeding. Each series meets for 7 weekly sessions. 
Refresher Birth Class – A one day class for parents who have taken a birth class during a previous pregnancy, but want to review the birth process and hands-on comfort techniques before their next baby arrives.
Where Do Classes Meet?
Our birth classes meet at Prime Chiropractic in Southlake, right off the Kimball exit of 114.
We meet in a comfortable, open class space and encourage couples to dress comfortably, bring snacks, and get to know each other as we prepare for birth together!
Don't just hope for an amazing birth, prepare for one!