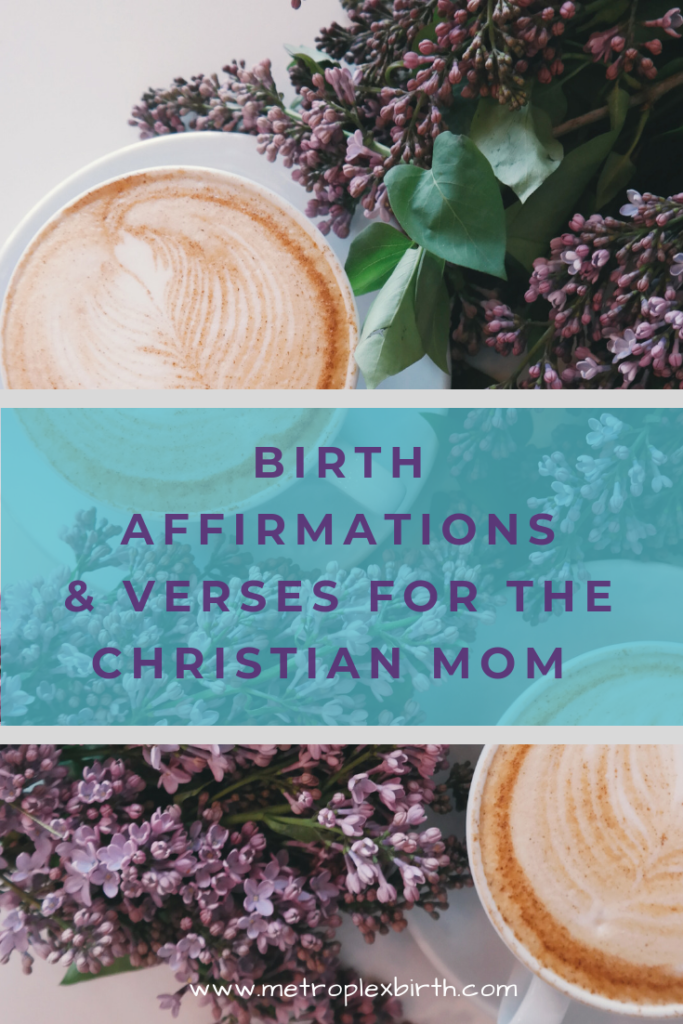 For the Christian mom, Bible verses and birth affirmations are a powerful way to prepare for a peaceful birth. Pregnancy begins a lifelong journey of care for your child. Someone new is in the world who you love deeply even before you've met. So, as I mentioned in my previous post about affirmations, it can be easy for a mother to become distracted by worries or fears as she nears the end of pregnancy. But as a Christian, we don't need to let these distractions steal our joy. The Bible instructs us to take "every thought captive" (2 Cor 10:5) and remember "whatever is true, whatever is honorable, whatever is just, whatever is pure, whatever is lovely, whatever is commendable, if there is any excellence, if there is anything worthy of praise, think about these things" (Phil 4:8).

You know that the Lord, who created the universe, this child, and you is also in control of every detail surrounding your birth. Your Father in Heaven loves you just as much as He always has. In fact, He has promised to help you and never leave you. Reminding yourself of these truths through affirmations and Bible verses throughout your labor can bring the sweetest peace and strength to your birth.

Here are a few Christian birth affirmations to inspire your thinking, followed by a list of encouraging Scripture verses, and a list of verses specifically about fears. I recommend using your baby's name, if you've chosen one, in place of "my baby" in your affirmations.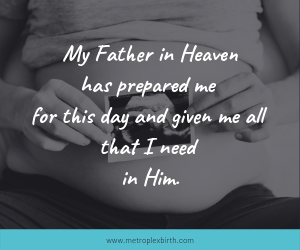 CHRISTIAN BIRTH AFFIRMATIONS

God has planned all the days of my baby's life already, including this one.
God hears my silent prayers and cares for my heart.
I choose to rest in the peace that surpasses understanding.
God has given me all the strength I need for this moment.
I trust the Lord, who made my body to do this.
Jesus is always with me.
I give birth in safety, held by the Lord.
God has perfectly prepared this day for my baby's birth.
The Lord strengthens me through every breath.
Jesus understands all my thoughts and feelings.
Lord, please take away my fears and replace them with your peace.
I do not labor in my own strength. I rely fully on God.
When I am afraid, I will keep my eyes fixed on You.
I trust the Lord, who continually cares for me.
When things seem uncertain, I rest in the Lord who never changes.
God has chosen my baby to be a special blessing to our family.
My Father in Heaven has prepared me for this day and given me all that I need in Him.
My body is fearfully and wonderfully made.
God will give me the strength to do hard things.
My Father holds me in his hands and is in control of every detail.
God has perfectly designed my body to give birth.
People who love me are praying for me and my baby RIGHT NOW.
You are my rock, my shield, my protector, my friend.
Lord, thank you for this experience. I am grateful for all of it.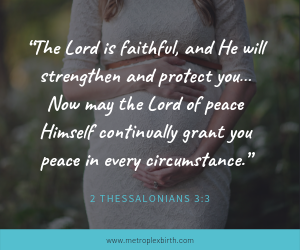 BIBLE VERSES FOR BIRTH
"The Lord is faithful, and He will strengthen and protect you… Now may the Lord of peace Himself continually grant you peace in every circumstance." 2 Thessalonians 3:3, 16 NASB

"I waited patiently for the Lord; He inclined to me and heard my cry… He put a new song in my mouth, a song of praise to our God." Psalm 40:1,3 ESV

"I can do all things through him who strengthens me." Philippians 4:13 ESV

"For by him all things were created, in heaven and on earth, visible and invisible, whether thrones or dominions or rulers or authorities – all things were created through him and for him. And he is before all things, and in him all things hold together." Colossians 1:16-17 ESV

"You keep him in perfect peace whose mind is stayed on you, because he trusts in you. Trust in the Lord forever, for the Lord God is an everlasting rock." Isaiah 26:3-4 ESV

"Truly my soul finds rest in God; my salvation comes from him. Truly he is my rock and my salvation; he is my fortress, I will never be shaken… Trust in him at all times, you people; pour out your hearts to him, for God is our refuge." Psalm 62:1-2, 8 NIV

"For I know the plans I have for you, declares the Lord, plans to prosper you and not to harm you, plans to give you hope and a future." Jeremiah 29:11 NIV
"From the end of the earth will I cry unto Thee when my heart is overwhelmed; lead me to the rock that is higher than I." Psalm 61:2 KJ21
"Come to Me, all who labor and are heavy laden, and I will give you rest." Matthew 11:28 ESV

"Trust in the Lord with all your heart, and do not lean on your own understanding." Proverbs 3:5 ESV

"Let all that you do be done in love." 1 Corinthians 16:14 ESV

"The Lord your God is in your midst, a mighty one who will save; he will rejoice over you with gladness; he will quiet you by his love; he will exult over you with loud singing." Zephaniah 3:17 ESV

"When you go through the waters, I will be with you; and through the rivers, they shall not overwhelm you…" Isaiah 43:2 ESV

"My grace is sufficient for you, for my power is made perfect in weakness." 2 Corinthians 12:9 ESV

"Behold, children are a gift of the Lord; the fruit of the womb is a reward." Psalm 127:3 NASB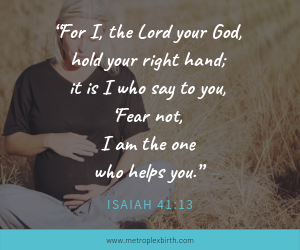 BIBLE VERSES FOR LABOR FEARS

"Humble yourselves, therefore, under the mighty hand of God so that at the proper time he may exalt you, casting all your anxieties upon him, because he cares for you." 1 Peter 5:6-7 ESV

"It is the Lord who goes before you. He will be with you; he will not leave you or forsake you. Do not fear or be dismayed." Deuteronomy 31:8 ESV

"Fear not, for I am with you; be not dismayed, for I am your God; I will strengthen you, I will help you, I will uphold you with my righteous right hand." Isaiah 41:10 ESV
"For I, the Lord your God, hold your right hand; it is I who say to you, 'Fear not, I am the one who helps you." Isaiah 41:13 ESV

"For God has not given us a spirit of fear, but of power and of love and of a sound mind." 2 Timothy 1:7 NKJV
"…Be strong and of good courage; do not be afraid, nor be dismayed, for the Lord your God is with you wherever you go." Joshua 1:9 NKJV

"When I am afraid, I will put my trust in You. In God, whose word I praise, In God I have put my trust; I shall not be afraid." Psalm 56:3-4 NASB

"…The Lord is near. Be anxious for nothing, but in everything by prayer and supplication with thanksgiving let your requests be made known to God. And the peace of God, which surpasses all comprehension, will guard your hearts and your minds in Christ Jesus." Philippians 4:5-7 NASB

"Peace I leave with you; my peace I give to you. Not as the world gives do I give to you. Let not your hearts be troubled, neither let them be afraid." John 14:27 ESV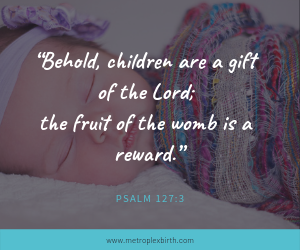 CHOOSING TO TRUST GOD

You can't control everything in life or in birth, but you can choose to dwell on God's love and grace to you. You can remember the incredible way he has made you and taken care of you thus far. I hope these Christian birth affirmations and verses are an encouragement to you and help you enjoy the good gift God has given you on your baby's birth day!

Want more inspiration? Check out my list of 50 Birth Affirmations for an Amazing Birth. And be sure to comment if you have other favorite affirmations. I'd love to hear what ideas have inspired your birth!