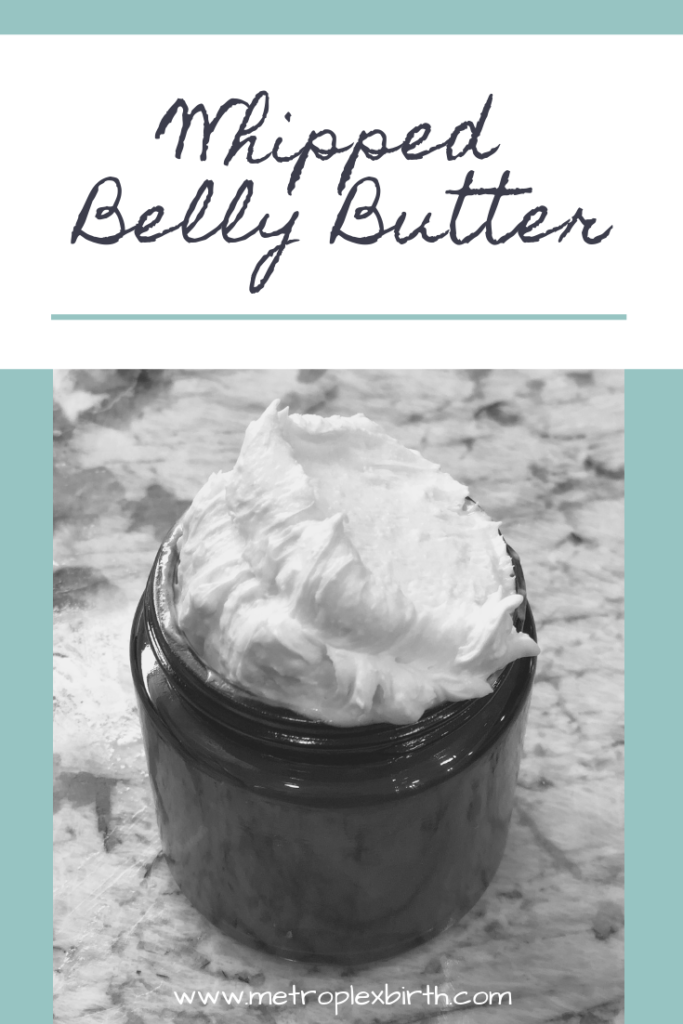 Easy Homemade Belly Butter
Homemade belly butter feels amazing on tight pregnancy skin and has the added bonus of being a fun DIY project. It tends to feel heavier than typical lotion when you first put it on, but is so much better at keeping your skin super supple during those last months of pregnancy. I modified this recipe from my friend Michelle at She's So Natural and it's perfect for melting into your growing belly when you step out of the shower. It's also great for hand or foot massages as part of your pregnancy relaxation routine!H
Simple Ingredients
This whipped belly butter is filled with all sorts of natural hydrating ingredients like almond oil, shea butter, and cocoa butter. All the ingredients should be readily available at your local health food store or can be ordered online. And it only takes a few minutes to whip up using a stand mixer in your kitchen.

Personalize Your Scent
Not only does this belly butter feel smooth as silk, but the cocoa butter makes it smell chocolatey and delicious! By adding essential oils, you can give it an orange-chocolate or peppermint-chocolate natural fragrance. You might also try lavender or another soothing oil blend. If you prefer fragrance free, sub mango butter for the cocoa butter and leave out the essential oils. It will still feel super moisturizing and luxurious!

Belly Butter Ingredients:
½ cup Shea butter
½ cup Cocoa butter
½ cup Almond oil
½ cup Coconut oil
20 drops of essential oils of your choice (optional)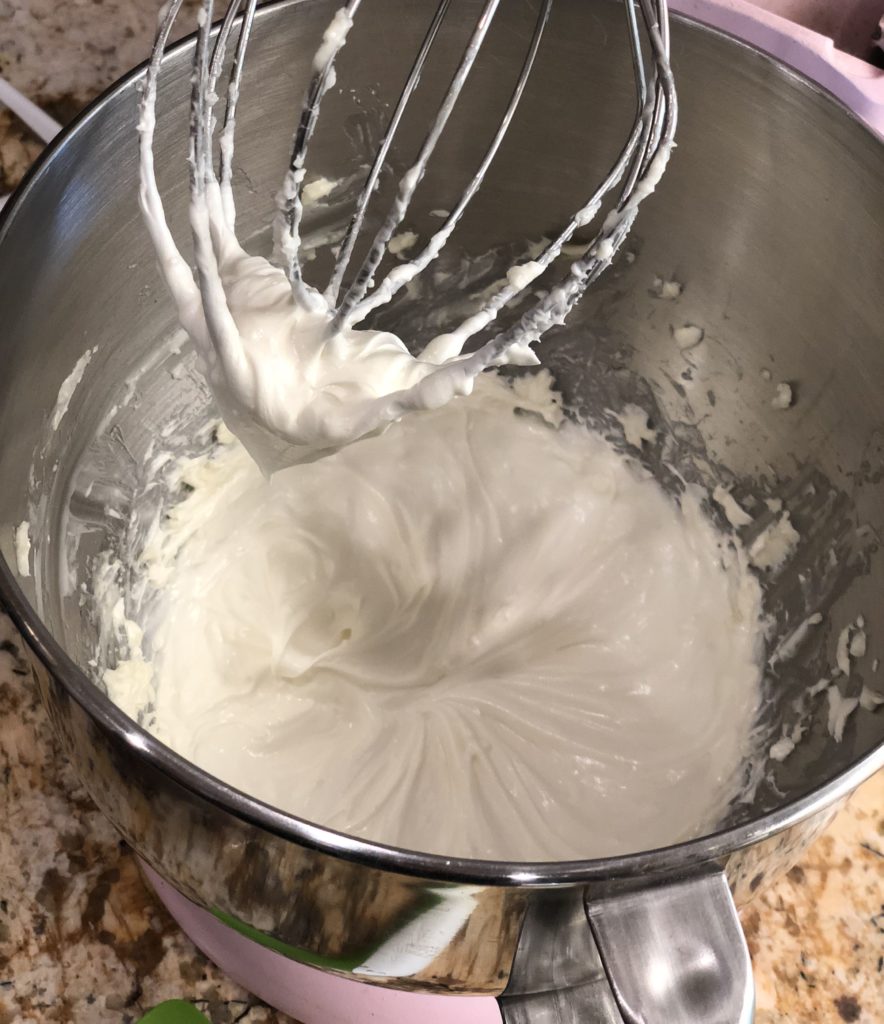 Directions:
Measure all butters and oils (except the essential oil) into a glass bowl.
Fill a large saucepan with 1-2 inches of water. Bring to a boil. Once boiling, place the glass bowl on top of your saucepan to melt the ingredients. Keep burner heat set to low.
Stir every few minutes while the oils are melting. It may take 10-15 minutes for everything to combine. Your final product should be a smooth, golden liquid.
Once everything is melted, remove from the heat and let it cool for 5-10 minutes. When cooled slightly, transfer to your mixing bowl and add your essential oils.
Let it rest in your refrigerator until it has set. It should turn from a liquid to a semi-solid state. You will know it is done when it maintains a finger indent when pressed. If it is too soft, put it back in to chill longer. If it is too firm, allow it to stand at room temperature until softened. You want it to be like soft butter.
Using a stand mixer, start mixing on low and slowly turn the speed higher until the lotion becomes light and fluffy (around 3-5 minutes). It will literally look like cake frosting, so whip it until that fluffy and creamy consistency is achieved.
Using a spatula, scoop the belly butter out of the bowl and place in a glass jar. Tip: don't store anything made with essential oils in plastic or it can break down the material.
Store your jar somewhere cool and enjoy your homemade whipped belly butter!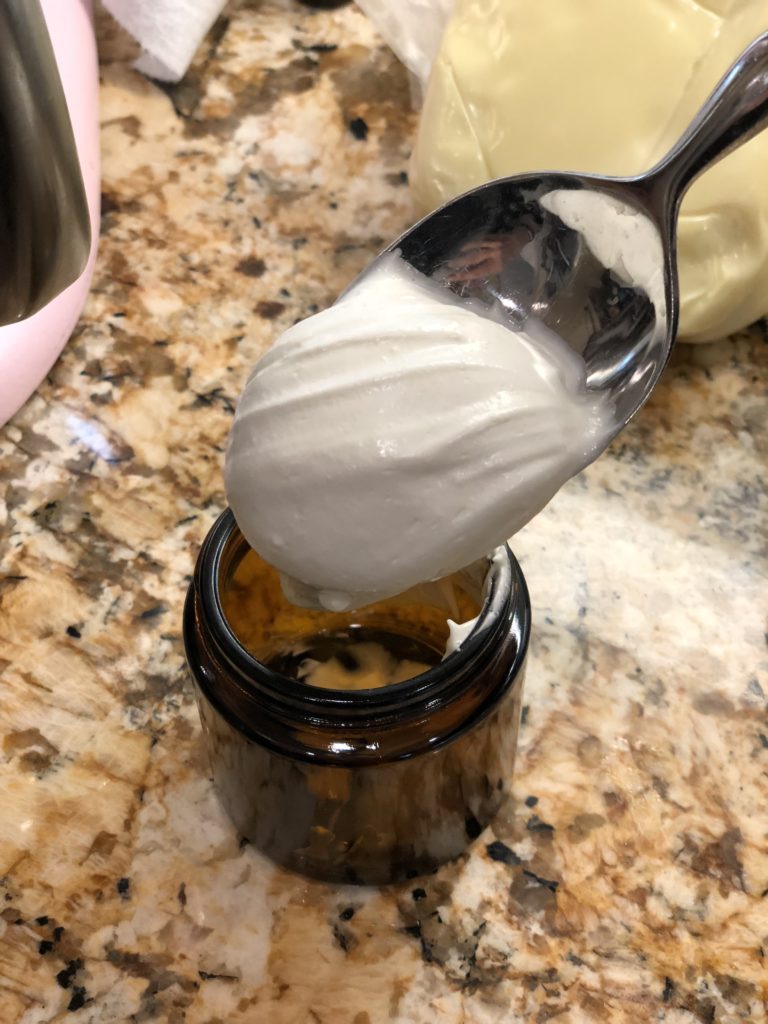 Give It a Try!
If you give this recipe a try, leave me a comment and let me know how you enjoyed it. I'd love to know which relaxing fragrance you chose to make!