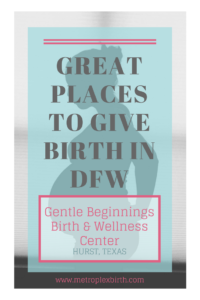 ---
Choosing Where to Give Birth in DFW
Deciding where to have your baby is a big deal and it's worth it to shop around to find the right hospital or birth center. This post is the second in a series featuring some of the most mother and baby friendly places to give birth in the Dallas Fort Worth Metroplex.  
Today's interview is with local DFW doula, Mandy Bohn, who is going to help us get to know Gentle Beginnings Birth & Wellness Center in Hurst, Texas.  It's a special place!
---
What Makes Gentle Beginnings So Great
Q: Tell us about the atmosphere at Gentle Beginnings.  What are the delivery rooms like?
A: Birthing at Gentle Beginnings is like birthing at home with the added benefit of everything being provided and taken care of for you by their incredible team. The atmosphere is warm, welcoming and peaceful. They have a birth cottage separate from their office so you never have to worry about prenatal appointments interfering with your birth experience. The birth rooms each offer a comfortable queen sized bed and a labor/birth tub.
Q: Tell us about the providers who attend births there.
A: There are six midwives, one graduating student midwife and four student midwives. All the midwives are Certified Professional Midwives/Licenced Midwives. I absolutely love working with Gentle Beginnings midwives! They are all very nurturing, compassionate and kind.
Q: What are some of the best features they offer for moms and babies?  
A: So many things! All the midwives are supportive and experienced in caring for mothers having a vaginal birth after a cesarean (VBAC) throughout pregnancy and birth. They have a chiropractor working in their office two days a week. She can also come to a birth if necessary. There is a sonographer on site, as well as a licensed counselor. They encourage doula support and work very well with doulas. In prenatal visits the midwives spend 30min -1hr with their clients. If older siblings come to the appointment they include them in caring for the mother. The kids love it! There are many tools available to provide comfort measures throughout labor. They encourage a variety of birth positions and if mom chooses to birth in water, she may do so. Moms even get an IHOP breakfast in bed after the birth! Their team works hard after the baby arrives to clean up and prepare the room for a peaceful and joyful newborn exam where they include the whole family. Gentle Beginnings just has that special touch to make the birth experience one that is memorable and blissful.
Q: Why do you love supporting moms and partners at this birth center?
A: The care my clients receive at Gentle Beginnings is unlike anywhere else! I have personally birthed all 3 of my children at Gentle Beginnings and have always referred to their midwives as my dream team. They all go above and beyond to meet the needs and desires of their clients. Although Gentle Beginnings is not the only place I support my clients, it is one of my top picks and I easily call it my favorite.
If you would like to find out more about Gentle Beginnings or schedule a tour, visit www.gentlebeginnings.com.
---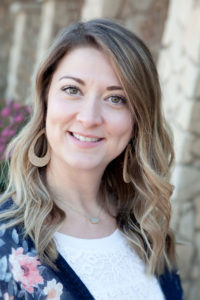 Thanks so much to Mandy Bohn for sharing about this amazing birth option in DFW!
Mandy is a birth doula who supports clients in hospital, birth center, and home births throughout the DFW area. You can contact Mandy by phone at 817-694-5405 or by email at Mandybohn@ymail.com.