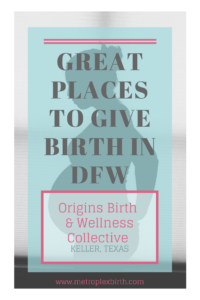 ---
Choosing Where to Give Birth in DFW
It's not always easy to decide where to have your baby, especially with the many hospitals and birth centers we have throughout the Dallas/Fort Worth area.  This post is part of a series designed to help you narrow down your search and let you peek inside some of the most mother and baby friendly places to give birth in the metroplex.  I am especially excited to share with you about the birth center we are talking about today because these are the midwives who attended my own home birth 5 years ago.  It was an amazing experience that I absolutely cherish and I can't wait to share them with you!
Today's interview is with local DFW doula, Brooke Harralson, who is going to tell us about Origins Birth & Wellness Collective in Keller, Texas and what makes it such a great place to give birth.
---
What Makes Origins So Great
Q: Tell us about the atmosphere at Origins.  What are the delivery rooms like?
A: The atmosphere is best described as peaceful.  I've heard so many moms walk into Origins and say they felt such a peace instantly.  It is such a beautiful birth center.  They have two gorgeous private birthing suites.  One of my favorite things about them is that they have two completely different vibes. One brith suite is more serene and glamorous, while the other is more rustic and charming.  This is perfect so people can choose which room is the environment that fits their personality the best.  Throughout the birth center, all of the decor is perfectly picked out and heartfelt, down to the sweet baby footprints decorating the wall.
Q: Tell us about the providers who attend births there.
A: Origins is made up of 4 Certified Professional Midwives/Licensed Midwives. Kaitlyn, Gina, Angela, and Justine all bring something unique to the table and they are truly the perfect combination to serve their clients well.  They care about you on all fronts – emotionally, physically, and spiritually.  They are wonderful at meeting each mom where she is at and catering their care to make every birth a unique experience. They are very patient and very trusting in women and their abilities to birth.  Origins has also recently expanded to include a Dallas office as well, making births with their amazing midwifery team even more accessible.
Q: What are some of the best features they offer for moms and babies?  
A: Origins really has just about everything a client could want!  In office, they have birth photographers, chiropractor, massage therapist, and sonographer!  They are the perfect environment for a natural birth and they are vaginal birth after cesarean (VBAC) supportive as well.  They also welcome doulas at births and work hand in hand with them to give you a great birth experience.  They know so many different positions and ways to help you labor to help baby move in whatever way they need.  They welcome family and siblings in the birth space when that is desired and make it all around a very inclusive, welcoming experience.
Q: Why do you love supporting moms and partners at this birth center?
A: I love working births at Origins.  I know I can 100% trust the midwives.  I know they will keep mom and baby's safety in the forefront and they will work hard for their clients to have a great birth experience.  They will stay with you even if you need to transfer to a hospital for any reason.  Their support is continuous.  They love their moms so well.  They take great care prenatally, in birth, and postpartum.  It is such an honor and joy anytime I get to work with these beloved midwives.
If you would like to find out more about Origins Birth & Wellness Collective or schedule a tour, visit www.originsbirth.com.  
---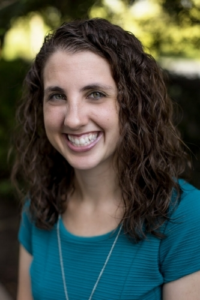 A huge thanks to Brooke Harralson for sharing all about this amazing birth center in DFW!  
Brooke is a birth doula who supports clients throughout most of Tarrant and Denton Counties. Follow her on Facebook or Instagram, or you can learn more about her services at www.kellerdoula.com.